This WEEKEND: We will donate $5 to Street Yoga for Every Tee you Buy!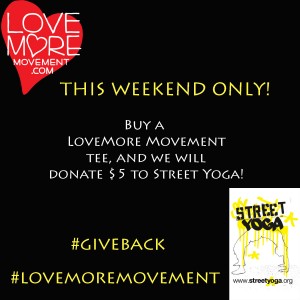 LoveMore Movement Posse:
It has been a real honor and privilege to be the community sponsor for Street Yoga's Los Angles Teacher Training. I took the training last year and was really inspired. It's wonderful to be able to share the wisdom and practice with others, to spread the word, and to expand our wings as teachers and students. Frankly, we are always students, no matter how long we teach. But I digress.
In honor of Street Yoga and the work they do, we would like to be able to give back. THIS WEEKEND ONLY, we will donate $5 from each shirt sold to Street Yoga. If you are at One Down Dog and participating in the training, you can pick them up there. If you are out of town, we'll ship 'em to you!
Please spread the word and help us support this wonderful organization. Their mission is below. Check them out at www.streetyoga.org for more information and to get involved.
"We envision a world where everyone has access to yoga. Youth, families and their caregivers will employ tools learned from yoga, mindful breathing and compassionate communication, to grow stronger, heal from past traumas, and create for themselves a life that is inspired, safe and joyful."
In gratitude,
Sarit