September Donations: RAINN.org
It's an honor and a privilege to donate to organizations whose work we admire and whose work touches the lives of so many. Thank you to everyone who bought a LoveMore Movement tee to support the Curtis Washington Fund. We donated close to $100 to them because of YOU.
This month, we want to donate 20% of all sales to RAINN.ORG, the Rape, Abuse, and Incest National Network. This is an organization near and dear to me. RAINN provides 24-hour support to abuse victims through the National Sexual Assault Hotline at 1.800.656.HOPE, a national partnership of over 1100 sexual assault service providers! Services are free and confidential and available 24/7.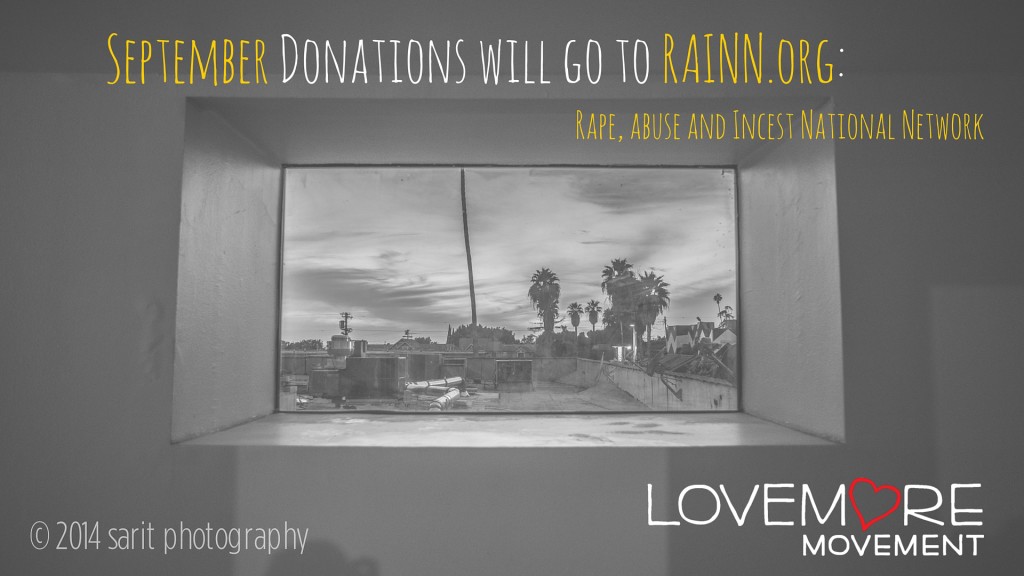 I recently wrote a piece for the Tattooed Buddha, which touches upon the damage abuse can do. The Tattooed Buddha and Rebelle Society are dedicating the month of September to stories from survivors.  More often than not, our system doesn't protect victims of domestic violence or sexual assault unless there's absolute and utter mayhem. Victims of abuse tend to stay silent, holding their trauma and pain inside. And when they do speak out, when their stories are shared, it's not uncommon to hear things like, "Are you sure you want to say THAT?" or "But he's such a nice guy," or "Don't be so dramatic." I could go on and on and on. So, in honor of our sisters, mothers, daughters, ourselves, use your voice. Share your stories. Speak out. As Maggie Kuhn once said, "Speak your mind, even if your voice shakes."
Grab your tees, stickers, and patches at LoveMoreMovement.com and help us give back to RAINN. No codes necessary. Stop the madness.
Love and gratitude,
Sarit
PS: New swag as soon as we move out the old!