It's a Compassion Revolution
We have been talking about hoodies for a year. We did a survey, jotted down the stats, but still, they never came to fruition. The economy hasn't been kind to us and well, staying afloat was more important than a hoodie. But then I had an idea! Why not create what we wanted on TeeSpring and give YOU what you want while supporting this movement? Voila! A hoodie was born! As TeeSpring goes, they are short campaigns that rely on  YOU to share and purchase so it can tip. We have 5 days to go, so let's rock and roll! I cannot wait to rock mine!
In other news, it's our wonderful Co-Founder, Joseph Rogers' birthday. He posted on Facebook taht all he wants for his birthday is for folks to support the LoveMore Movement, buy a hoodie, and start a #CompassionRevolution!
Please tweet, instagram, facebook, scream on the top of a mountain, etc. You are welcome to use one of the images and this info:
Support the @LoveMoreMovement! Grab a hoodie and Start a #CompassionRevolution --> teespring.com/lovemoremovement
This is the front: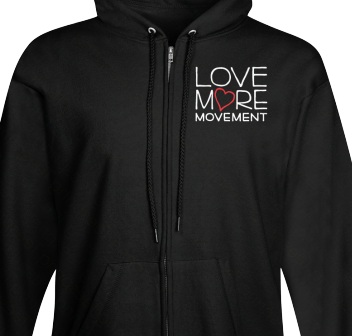 and the back
: